Channel share for Sky / Prime
AP 25-54 All Day Channel Share
Sky channels account for over a quarter share of total viewing.
In Sky homes this share increases to approximately half the total viewing, and the share for FTA channels dramatically reduces.
TSV is higher in Sky homes, they watch more TV.
Watching high-interest programming tends to lead to higher engagement which is a good environment for advertising placement.
Great viewing environments: Sky homes are more likely to have high end television sets including bigger screens and HD. This indicates the spend available in Sky homes plus the high value of television to these viewers.
People with Sky are quality conscious, brand loyal and seek goods and services that save them time. They are more likely to act upon advertising they see on TV.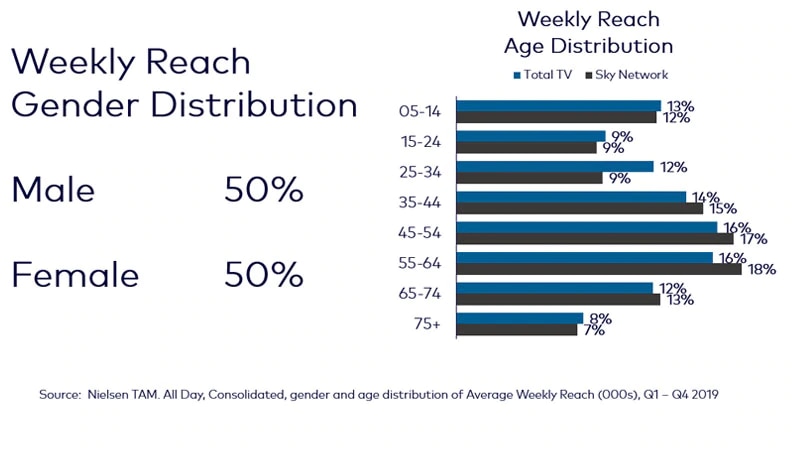 Who is watching Sky Network?
Sky viewers are split equally between male and female viewers and 4 in 10 are in the 25-54 age group illustrating the wide appeal of Sky's channels. Sky Subscribers have higher household incomes, higher levels of home ownership and higher weekly spend, a very sought after group for advertisers
Prime delivers a mix of classic and contemporary programming both locally and internationally produced. Prime's programming covers news, entertainment, drama, documentary, comedy, lifestyle and sport. The majority of Prime's peak time programming is new to New Zealand, unseen on any other network. Prime's programming also covers premium sporting events like live cricket and replays of the All Blacks and other major sporting events.
Prime viewers are split equally between male and female viewers and it has slightly older age profile compared with TV viewership in Total.
Kiwi's are passionate about Sport and Sky's extensive coverage caters for all tastes. With four Sky Sports channels available to advertisers there are many opportunities to align your brand with a specific sport or the general sport sports fan.
Sky's Sport viewers are skewed towards Males and it has slightly older age profile compared with the profile for Total TV.
Sky offers a wide variety of channels in homes which have a Sky subscription. The inclusion of Prime in the Sky Network gives advertisers access to the broader free-to-air market. Use the wide range of channels Sky Network offers to suit your advertising message. Identify your target audience, then the best environmental fit. For Example:
SPORT
If you want your message to be seen by a passionate and engaged audience, then the excitement of live or delayed sport may suit.
(Sky Sport 1, 2, 3, 4 and Prime)
LIFESTYLE
If your product suits being surrounded by inspirational cooking, design and lifestyle programming Sky has a range of channels to satisfy.
TRUSTED BRANDS
Perhaps your message would benefit from the highly credible environment of large international trusted brands such as Discovery, BBC, E! and National Geographic.